The Opening Bell rang in Borsa Istanbul for Integrated Reporting Turkiye Network
The opening bell rang in Borsa Istanbul for Integrated Reporting Turkiye Network (ERTA), which is established by Borsa Istanbul, TÜSİAD, TKYD, SKD Türkiye, IIRC Turkish Ambassador, Argüden Governance Academy, Global Compact Türkiye, Garanti Bank and Çimsa Cement under the leadership of Prof. Dr. Güler Aras who dedicated years of domestic and international work to integrated reporting in academia and the business world.
As is the case globally, Integrated Reporting Turkiye Network (ERTA) has been established in Turkey in order to raise awareness about the "Integrated Thinking" and "Integrated Reporting" approach and support applications implemented by companies in this field.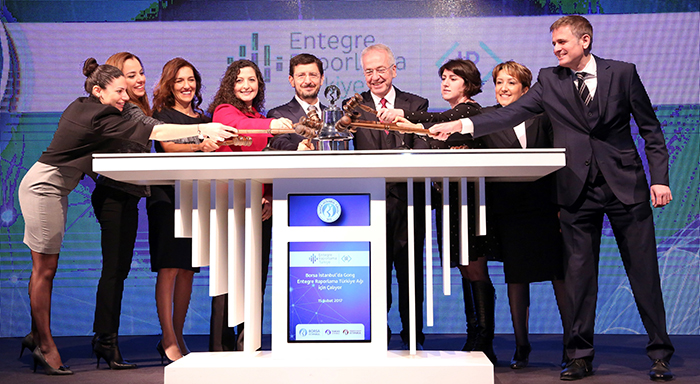 ERTA's establishment was announced in a opening bell ceremony held at Borsa Istanbul on February 15th, 2017. Borsa Istanbul Chairman of Executive Board and CEO Himmet Karadağ, ERTA Chairman of Executive Council Prof. Dr. Güler Aras and TÜSİAD Chairman Erol Bilecik gave speeches, while the founding members rang the bell together.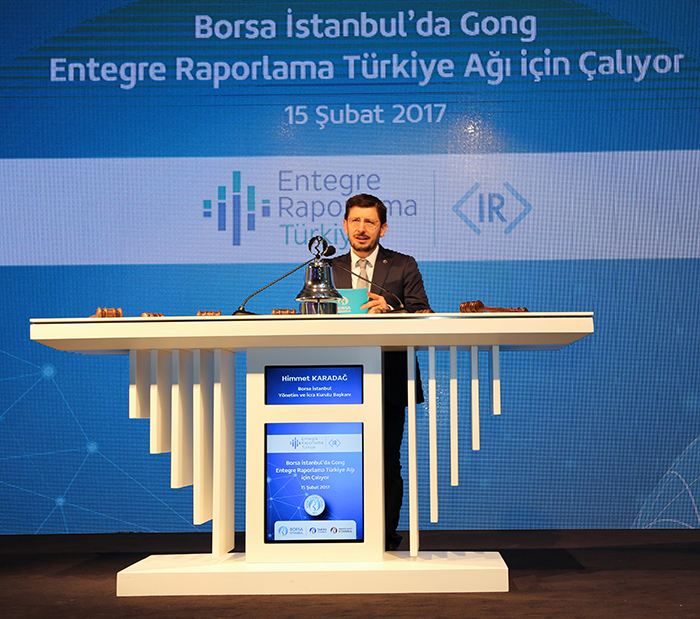 Borsa Istanbul Chairman of Executive Board and CEO Himmet Karadağ conveyed in his ceremony speech, "Rapid economic growth, major social and technological change are affecting the Turkish and global public, the environment and companies as never before. Therefore, roles and responsibilities are being reshaped. Company performances are no longer evaluated solely on financial statements. Performance is also measured by the value they create, their corporate infrastructure, their approach to the environment and their shareholders. Investors are closely monitoring the financial repercussions of environmental, social and governance risks that companies face and use these in their investment decision-making.
Companies are communicating various data and information on their operations to their shareholders via tools such as financial reports, corporate management or sustainability reports, whereas integrated reporting allows this necessary data and information to be presented as a whole in a single report. This approach makes the decision-making process easier for investors in this complicated business environment, while also allowing for a healthier communication between companies and their shareholders.
As Borsa Istanbul, in addition to being a founding member of Integrated Reporting Turkiye Network, we plan on contributing to this affair by leading our large-scale firms with a particular capacity and ability for integrated reporting in Turkey into our stock market and extending our corporate investor base."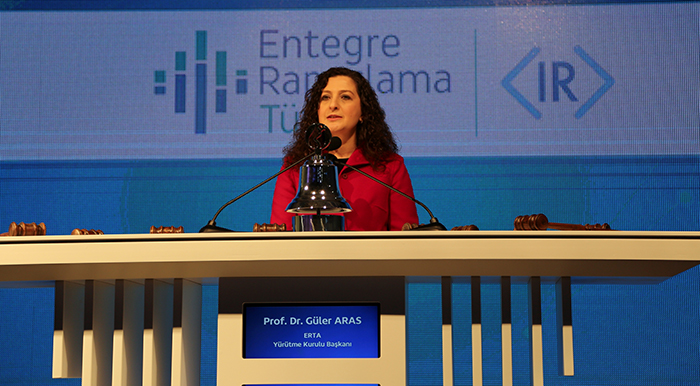 ERTA Chairman of Executive Council Prof. Dr. Güler Aras contributed in his speech, "Today, due to business operations becoming complicated, as well as the multi-dimensional structure of problems and solutions and increased shareholder expectations, integrated and strategic approach has become
a must in order to "create permanent value". "Integrated Reporting" scheme has been created as a means to express the outcome of an integrated management of the financial and non-financial process. An Integrated Report is a reporting scheme that reflects how an organization has been and is going to be creating value in the short- and long-term, its current strategy, management approach and performance. It aims to assist all shareholders of an organization, and primarily investors, in making and implementing responsible decisions with a holistic point of view and to create sustainable value. As Integrated Reporting Turkiye Network or ERTA, we intend to extend the "Integrated Thinking" and "Integrated Reporting" approach to all organizations in Turkey, as well as assist in its implementation and raise awareness on this subject."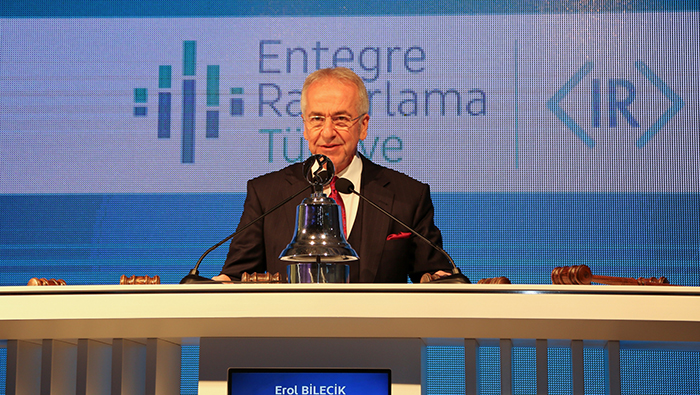 TÜSİAD Chairman Erol Bilecik said in his speech, "Since the first days of corporate reporting there have been great changes in the business world regarding the approach to creating value and the methods employed in doing business. Globalization, diminishing natural sources, the crises faced and the increasing expectation for transparency have forced companies and even all institutions to redefine their roles and responsibilities. Today, it is not only a question of whether a company is profitable, but also of how this profit is generated. At this point, integrated reporting emerged as the shortest, most concise and clear method for companies to communicate their past, present and future capabilities in creating value to their shareholders. I have full confidence that ERTA, bringing together all leading shareholders in the field of integrated reporting in Turkey, is going to put integrated reporting at the top of the agenda of our companies. I hope that today is going to be a milestone in Turkey's corporate reporting journey."
INTEGRATED REPORTING TURKIYE NETWORK
We are rapidly leaving behind the times where company performance is solely evaluated by profit. Today investors, realizing that environmental, social and management risks and uncertainties have a direct impact on company sustainability, also demand non-financial performance information from companies.
This has caused companies to shift to non-financial reporting in addition to financial reporting. Companies have started to present integrated reports that contain information that is more comprehensive and detailed than financial information, such as corporate management compliance statements, corporate social responsibility reports and sustainability reports.
The first effort for raising awareness about integrated reporting in Turkey was initiated by a working group established in 2011 by Corporate Governance Association of Turkey (TKYD) and Business Council for Sustainable Development Turkey (BCSD Turkey). During this process, TKYD assumed the role of IIRC's contact point in Turkey and in 2013, Garanti Bank and Çimsa Cement became the first companies from Turkey to join the IIRC pilot program to create integrated reports. In 2015, during Turkey's G20 Presidency, with the contribution of ARGE Consulting, elected as B20 Information Partner, and Argüden Governance Academy, a member of the C20 Governance Working Group, Integrated Reporting was included in the issues suggested to the G20 leaders. Also in 2015, TÜSİAD contributed the first Turkish resource, "A New Era in Corporate Reporting: Integrated Reporting" guide, as part of the 2014-2015 action plan for Coordination Committee for Improvement of Investment Climate (YOİKK).